Every once in a while I make some things for the wife and family etc for gifts out of broken/scrap car parts.
This year for Christmas gifts I made lamps. A desk lamp for the daughter, she is not allowed to put holes in the walls at the dorm rooms, yet is always challenged with lighting. I got some clip lights free when someone was cleaning out a garage, they have nice flexible arms on them, so she can point them up if she needs to light the room. Just took the clips off and welded the nuts to the cam gear...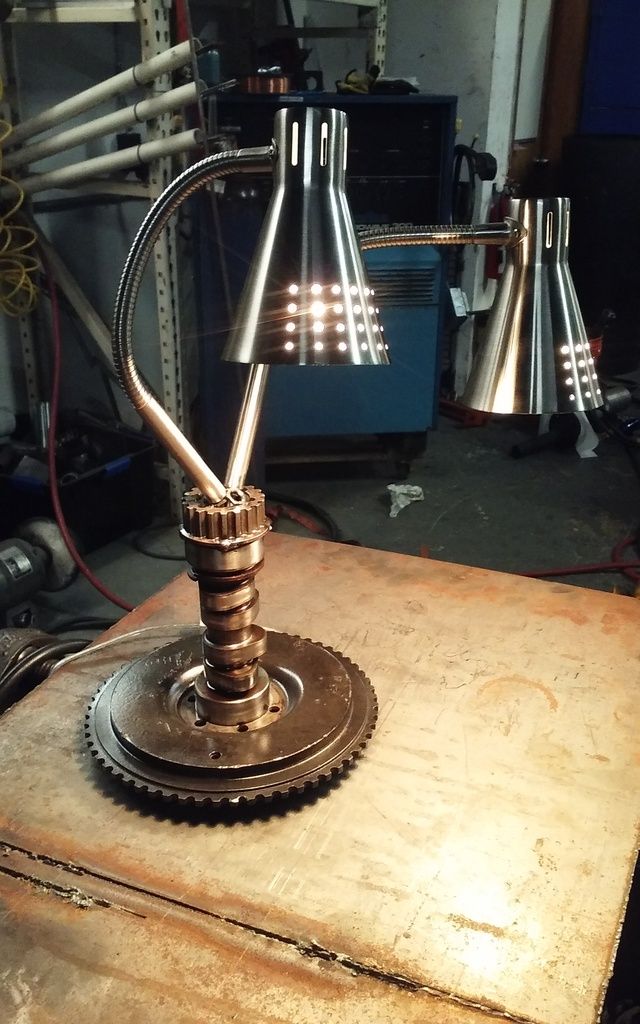 A table lamp for the wife. She loves industrial art/deco...
The cam came from a broken LS1 that I swapped into a Mercedes e-class race car this year, dual mass flywheel from a BMW, was replaced with a single mass, wire mesh and sheet metal left over from air ducts, 3/8" rod left over from ??, old timing sets etc. Only thing I had to buy was the clear coat to keep them looking used without getting dirty after handling and the bulb kit for the large lamp. Some things are better made than bought :-)
Yes, my shop is a mess. The new Rage cold saw ripped through the cam like it wasn't even there, used the MIG and TIG for them - nothing like welding oil soaked dirty metal! Either way, hope they like them.
Happy Holidays all...
-John