The cooler is set on top to insure coolant supply to the torch lines. The front panel has a fan indicator/test light, adjustable thermostat for fan, an output gage for pressure and temp, and a low pressure light and test switch...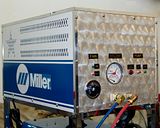 The cooler has a procon pump I got at a garage sale, and the fan and cooling coils soldered in series (60ft) from a dehumidifier. Inline filter. 20 feet of copper line. Grey water pump house switch to give me a low pressure alarms (2 audio and 1lighted). Also 2 thermostats (one inline) to turn fan on at my desired cooling temp...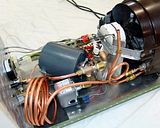 The 5 gal SS serviceable tank is top mounted to prevent pump cavitation (1" silicon hose (blue)),thermostat capillary tube in black sheath on side, a purchased pusher fan to exit the hot air out; in event there is a water leak, I have it draining to the rear without touching the welders...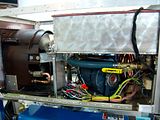 The electrical is powered from the 2 electrical outlets on the back of the Dynasty 350...One powers the alarms and one powers the pump.