I want a Lifted Industrial Cart.
ok im a bit odd and nuts but i love every minute of it. next door is a plant nursery that has been there ever since i moved into my house as a little lad. they have a few Taylor Dunn electric carts. as the old owners are getting into there mid 90's so they closed up shop. sold off a bunch of stuff but they have one electric cart still there. its been there for a year or two now. im planning to ask the owner if i could have it either for free or really cheep. they used to have about 5 others there and they sold them off. so this poor sheep is sitting out there rottin away, and ive wanted it since i was 5yrs old.
(crappy cell phone picture of said lone cart. its a 3 wheeled cart BTW.)
so everyone has Yamaha rhino's, lifted golf carts, etc..... me! i want a lifted and 4X4 industrial vehicle.
ive done some reading and Taylor Dunn mostley used Ford 9" rear ends they are really narrowed down quite a bit. if that's the case id yank the 3rd member and install a normal truck type 3rd member with a yoke on the pinion, and get me a jeep Dana 30 front Axel or something of that sort, that's small cheep and narrow it down also. as for my front Axel i plan to position it directly under the front seats maybe a little forward.
the cart pictured is a uni body style 3 wheeled setup. the current front wheel is located right under the drivers bench seat. i plan to cut the front wheel out of it and weld in some 2x3 tube to make some frame rails so i can put my leaf springs on there, and add cross members to stiffen it up a little. the units design is 16ga steel diamond plate and 3/16" angle iron, so its built tuff.
now for the drivetrain, this is why im making a bit long post to get some ideas and maybe other options on one way i was thing of powering this project.
1st idea: keep it electric at either the stock 36V system or up the voltage and use a new controller. my plan was to get a Manuel transfer case of some kind and figure out a way to attach the electric motor directly to the transfer case and go that route.
or
2nd idea: use a small engine somewhere in the 15 to 22HP range and a 3spd Manuel transmission and clutch setup like my '79 cushman haulster, and some how couple the transmission to the transfer case. reverse is a big need and depending what cushman type and year i get my transmission, i can get a get a really low geared transmission.
(pic of said '79 cushman. no im not taking the drive train out of it for this project idea. it runs good and is almost complete, just a bit tired)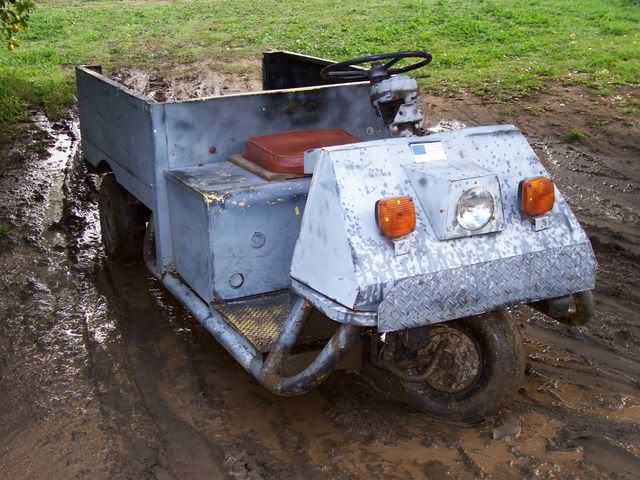 so there you have it, my oddball project idea.
would prefer to make it gas powered, so any inputs on a small clutch and reversing transmission set up i could use in case i can not find the parts from a cushman would be great.
something to tinker with have fun and be DIFFERENT!
its something ive been thinking about for a while now. ive spent the last week or so researching ways to build build this monster, and needed to get my idea out there on the net to get some ideas from others.
BTW: the 3 wheeled cart is 10' long and 3' wide, the wheels and tires will stick out to widen it some. and the wheelbase should be around what a golf cart is, if not more.
thanks.