I actually finished this project in June, but haven't had time to post it here. This will be in multiple posts, because this forum only allows 4 images per post/
First some background. I've been welding for about 35 years since I learned to stick and OA weld on the farm as a teenager, but I would consider myself a hobbyist welder since I was never paid as a "weldor". (I did work as a heavy equipment mechanic many years ago that involved welding as part of repair duties, but not that often.....)
About 10 years ago I started getting into restoring old cars and doing large art projects, and bought a Miller 180SD Syncrowave. At the time, I really wanted a 250 Syncro, but couldn't afford it. About a year ago, I came across a nice 350 Syncro with a blown main board on the cheap and bought it. It only took a couple of hours to troubleshoot the problem and fix it, so now I had a nice 350, much bigger than I wanted, but I have the space (and power) to feed it. I sold the 180SD.
We have a small house on a lake, so we have a bunch of water toys, ski boat, jet skis, etc. For the last couple years, I thought it would be nice to have an old beater pontoon boat, and had this wild hair idea to get an old pontoon, put an upper deck on it, and put a slide on the upper deck for the kids. In January, I was browsing Craigslist, and saw a pontoon for sale locally really cheap, with motor and trailer. Showed the picture to the wife, and she said "go for it". A few hours later, I was towing home the pontoon, no clue if the motor was any good (it was like zero degrees out! Fortunately, the engine was in good shape, I later discovered).
Here's a photo of the pontoon as I bought it, before work was started.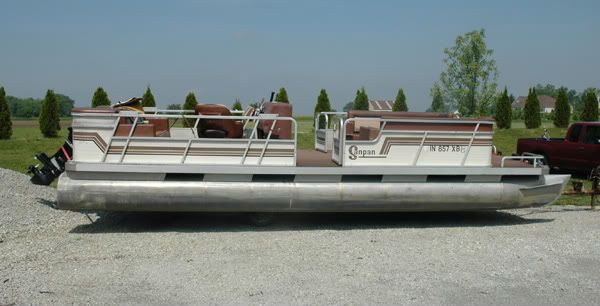 Designing the upper deck and slide took a long time. I looked at a bunch of doubledecker pontoons on the web, and didn't really like how any of them were built. Most of them had a multiple gusset type of construction. I wanted to keep it super simple and robust. I opted to build a deck 76" wide (to have the uprights centered on the centerline of the pontoons) and 96" long. Once I had it all designed, I pondered how to attach it all to the pontoon.
The deck of the pontoon was generally in OK shape, just one soft spot, but since I had to strip off all the furniture and parts of the deck to weld the attachment points onto the pontoon, I decided to put a new deck and carpet on it. So the next stage was to strip it all down to bare deck.
Now came the fun part; welding up the upper deck assembly and mounts. I opted for 4"X4" 3/8" thick T6061-6 angle for the uprights, 3" T6061-6 channel for the upper deck floor joists and side rails, 2"X1/4" thick T6061 bar for angle bracing. I fashioned a jig of 2 X4's to hold the heavy aluminum channel uprights in position, and welded the whole thing in my garage.
While I have welded a lot of aluminum before, I admit that virtually all of my aluminum welding experience was with material in the 1/16" to 3/16" range. Welding the 3/8" thick stuff was a whole new experience! When I bought my 350 Syncro, I never envisioned using anywhere near the max output. But here I was, welding the 3/8" thick angle on this project with the controller maxed out. The 1/8" 2% Lanthanated tungstens were not quite up to the task; I should have had 5/32" or larger, but didn't have time to wait to buy them online. I also had to switch out my lightweight TIG safety gear to high amp stick gear; darker lenses, thick gloves, sleeves... (I sunburned my bare arms badly on the first day....)
The other challenge was weld positioning. Usually when I TIG weld something, I have it nicely fixtured on a table, with horizontal welds. This project required lots of time up on a 8 foot step ladder, reaching out, overhead, etc. Fortunately, I have a nice slider hand controller that I learned years ago to use while Tigging out of position under cars, so I didn't have the learning curve of switching from pedal to hand control. (Also, I found that with the 1/4" and thicker aluminum, I could just basically turn it on to a set point and alter speed to control heat, just like O/A welding...)
With all of the out of position stuff, the welds were not as pretty as I would like, but hey, they are functional.
Once I built up the upper deck, I then built the mounts to the pontoons. I built them out of pieces of material I used for the upper deck and uprights. The rear mounts were easy as there was already a riser in place to simply weld a reinforced plate to the risers. The front mounts were fashioned out of the 4" angle butt welded with a 3" spacer to form a heavy channel. I welded a 12" long piece of the 4" angle to the top of the channel to form upright stubs that I would bolt the deck uprights to. This channel was then welded to the pontoons.
Here's a photo showing how the front mount is welded to the pontoon.
And here is a photo of the stripped deck, with the mounts positioned in place for welding.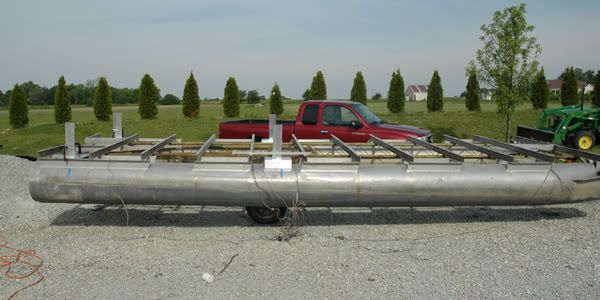 Another photo of the front deck mount, shown between the two existing deck mounts on the pontoons. (I don't know what they used to weld the existing deck mounts; they look pretty rough...)