I've been saving for a Dynasty 200dx for two years but every time the piggy bank gets close to the mark something blows up around the house and it comes down to the kids or dad's new welder. So the piggybank was finally overflowing the other day. I ordered a Dynasty 200dx along with a Coolmate 3 from B&R Wednesday before something else blew up and before the 5% price increase.
I've tried to give my business to the local welding stores but everyone wants list and when I ask them if that is their best price they say yes, so I leave. Between state tax and the mark up I'm looking at over $500 more then if I ordered it online with free shipping.
One time I walked into a store with the bosses big Mercedes parked out front and they wanted list too, I left. I usually go in the wife's mini van just to see if it matters to Bubba behind the counter whether I'm driving a Ford 350 Power Stroke or not.
Over the past two years I've been slowly acquiring accessories for the Dynasty. I bought a dual flowmeter for stainless steel welding:
and the Weld Hugger for the backside of the stainless steel. (I never could get it to not carbonize on the backside like the instructor showed me a million times)
At the welding school they had the Miller foot controls but I didn't like having one foot six inches off the ground and one day I saw this foot control that seemed lower to the ground in the AWS magazine so I bought it: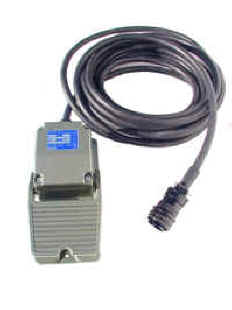 Last year I bought filler and tungsten from Tig Depot and early this year I bought a Piranha II tungsten grinder:
I went to the AWS show this May in Dallas and one of the things I had on my list to see was the CK Worldwide Rotary Amperage Control:
The CK folks were real nice and I like the built-in handle the best. I had decided this was going to be my hand torch all I now needed was a welder!
Yesterday morning I called CK to see where I could purchase their TIG torches in the Dallas area. He told me of a store 35-minutes away but nothing is close in DFW anyways. I went to the store on the west side of the Trinity River in the shadow of downtown Dallas to order my TIG torches. I had decided I was going to also purchase two more torches, one pencil and one regular torch to use with the foot control. I had settled on the CK Worldwide 2 Series torches so I could use the parts interchangeably. I couldn't figure out what the differences between the CK-20 and the CK-200 was or what parts I needed to make the Rotary Amperage Control work but not to matter the guy at the store would help me out. I had to get moving the new welder is on the way and I have no torches (the infamous plug demon is still to come).
I walked into the welding store and sat down at the counter with a clean credit card in my wallet. I figured I was going to leave at least $750 on the counter by the time I left. I told Bubba what I wanted and he told me they didn't carry CK Worldwide. I told him that is not what I was told on the phone from CK Worldwide themselves. He told me he would be right back he needed to check with Darrell and his other brother Darrell in the back. Bubba came back with a CK Worldwide product book and started fumbling through the pages looking for the Rotary Amperage Control. When he finally found it I had to show him how to look up the one for a Miller 14 pin 28-foot cord. I asked him what they mainly sold and Bubba said they only sold Weldcraft. As he stumbled along I got more frustrated and I finally told him "I needed to go back home and do some more research as to what I really needed." Bubba quoted $215 for the Rotary Amp and last night I found it on the web for $145. Poor Bubba.
Seven days a week I can get my PraxAir argon at Home Depot along with all the other major gases PraxAir sells. I see no reason to vist a brick and mortar welding store anymore. Three Miller Service Centers within a thirty minute drive can handle my warranty work.
You Miller boys need to teach your brick and mortar stores how to compete in this day and time of the web based stores. Next on the list is a Plasma Cutter and a Millermatic 251 hummm I wonder where I'm going to buy those. With Monster Garage, American Chopper, American Hot Rod and all the other shows on Discovery Channel and TLC the welding stores had better learn to receive the home hobbyist. While I'm not a major customer when I'm all done I'll have pumped over $5,000 into welding equipment. Money I'll spend where the sales people are knowable, friendly, helpful and are willing to compete for my business.
Tell the bosses to park their Mercedes' around back!