I can't remember if I had mentioned this or not in another thread here, but my local Home Depot has 50lb tins of made-in-the-USA
Excalibur 7018 1/8": $63.72
Fleetweld 5P+ 6010, 1/8": $68.00
Pipeliner 6P+, 1/8": $70.00
Fleetweld 5P+ 6010, 5/32": $66.00
Pipeliner 6P+, 5/32": 68.00
Yes, you read those right. They've been at those prices since sometime last year when I first went looking at prices for SMAW rods. Thinking it might have been a mistake, I stocked up and now have around ten, 50lb tins of this stuff.
Over on weldingweb, lots have taken advantage of this superb pricing. You end up getting awesome rods for
$1.28-$1.40/pound
. I just went today and snapped this pic. These things ain't going no where, except the door-steps of those who order these from the Home Depot website. Just select Laredo Store #6540, and then have it shipped to your home, FOR FREE. You can't beat that.
Pic taken today.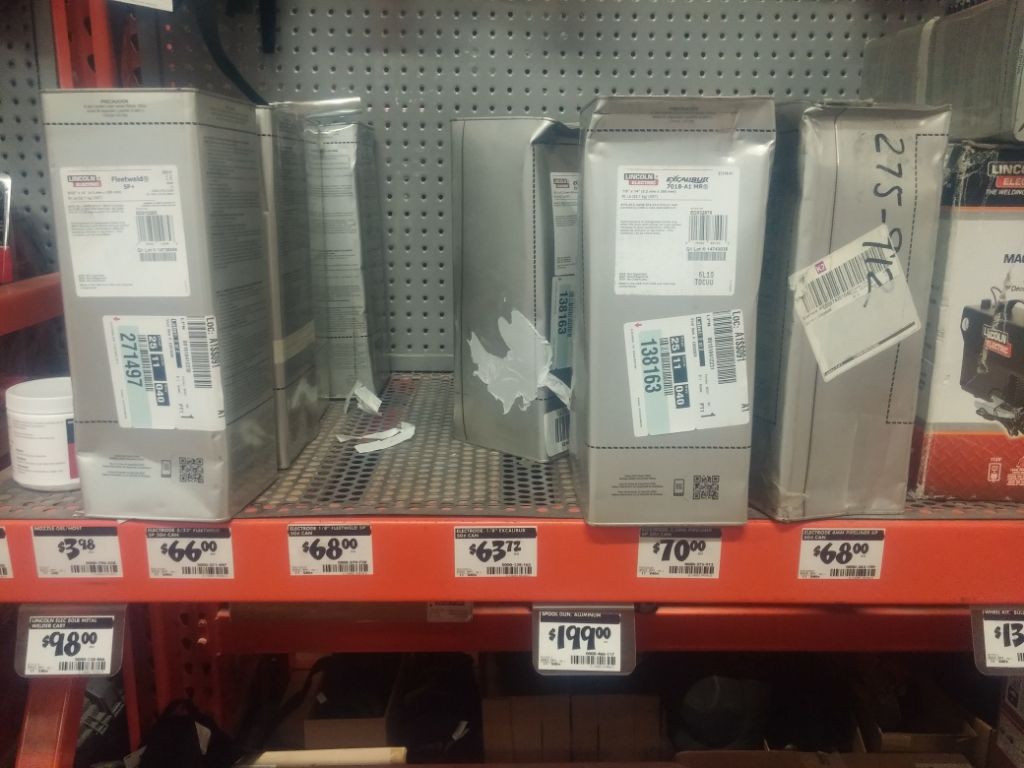 These are not some Lincoln reject tins made in some unknown place. They bear the same label as tins you can find at your LWS's (as I have).
The only bad thing is that since they have to be shipped, usually drop shipped from a Lincoln distribution warehouse, some had ended up with some flux knocked off the rods, but the most I've seen reported is around 5lbs. Even then, the flux gets knocked of the ends most of the time, rendering the majority of the "damaged" rods still useable if you slice off the end without flux. Even if you did manage to have to throw away 5lbs, you're still way ahead.
Happy ordering! Get them while they're hot!!